For every tea or teaware that you buy, we plant a tree on your behalf.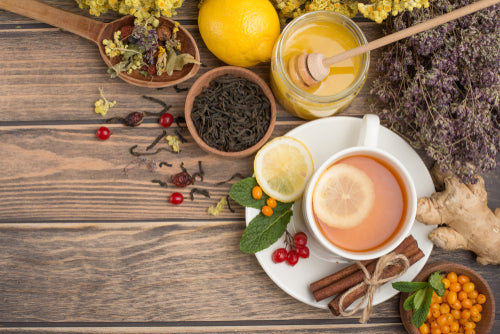 A caffeinated variety of black tea, Darjeeling tea is grown in specific regions of India. The tea is famous for its magnificent flavor, color, and aroma....
Darjeeling tea grows in the shadow of Kangchenjunga, the world's third-highest mountain. It is one of the world's most popular and finest black leaf teas. The tea plantations of Darjeeling, in West Bengal, India, were established in the early nineteenth century by colonial powers.
Fermentation techniques and innovative black tea hybrids followed soon after. Therefore, Darjeeling became internationally recognized and beloved! Discover our range of single-origin Darjeeling teas and breakfast blends.
The Tea Accent's Darjeeling tea collection
The world's tea connoisseurs consider Darjeeling to be the hot beverage equivalent to champagne for many reasons. Apart from its delicate muscatel flavor and hints of almond fragrance, this tea grown at the foothills of the Himalayan Alps is distinguished by its exclusivity.
Darjeeling is not as widely available as other full-bodied black teas in India, such as Assam. Darjeeling contributes only about 1% of India's total tea production, whereas Assam tea makes up approximately 53%! With its curated collection of Darjeeling teas, Tea Accent offers a wide range of single-origin loose leaf teas sourced from orthodox estates.
Darjeeling tea's history
During the mid-19th century, British colonial powers established the first commercial tea gardens in Darjeeling. Dr. Campbell was the first colonial civil surgeon to plant Darjeeling tea under the shadow of Kangchenjunga in 1847. The first two crops are available in our online and physical stores as First Flush and Second Flush Darjeeling.
Is Darjeeling tea good for your health?
It's no secret that Darjeeling tea is rich in nutrients from the Camellia sinensis plant. Drinking it may support weight loss, reduce stress, and combat chronic health conditions, among other things.
Take some well-deserved time for yourself by brewing a cup of Darjeeling tea. It is also a wonderful gesture of hospitality to make someone a cup of tea to welcome them into your home.
Do you need to add milk to Darjeeling tea?
Adding milk, sugar, or lemon to Darjeeling tea is not recommended. In addition, it is important not to add any additives to Darjeeling tea, because it is a delicate tea with a delicate flavor.
How often should I drink Darjeeling tea?
In the morning and at night, you can drink Darjeeling teas at any time, depending on the flush.
Why are Darjeeling teas popular?
The Darjeeling tea is known for its strong, special aroma, and its often fruity and musky taste.
Buy Darjeeling tea online at The Tea Accent tea shops
At The Tea Accent, we are dedicated to making our teas luxurious and thoroughly enjoyable while maintaining a high level of quality. In our Darjeeling tea range, you will notice that some of the teas have musk, fruit, and floral notes. Our goal is to provide you with the best tea possible.
Making loose leaf Darjeeling tea is not as difficult as you might think, thanks to infusers and strainers that make it easy. We also offer a variety of black tea bags, green tea bags, and herbal tea bags in pyramid tea bags if you prefer a quicker alternative.
Do you want to try other teas? Find the right black tea, green tea, or herbal tea for you with our selection.